The health and care centre of Mareuil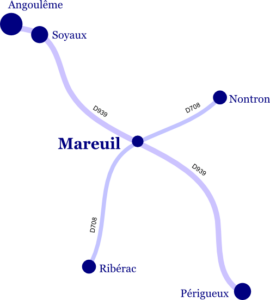 Located at the crossroads of two major roads ( the D939 and the D708), the healthcare centre of Mareuil is located close to the market square. A number of medical facilities are relatively close with several larger towns being less than an houraway from Mareuil.
Soyaux, Ribérac and Nontron are located 30 minutes from Mareuil ; Angoulême (TGV station) and Périgueux are 45 minutes away.
Healthcare professionals in Mareuil

GPs
Dr Didier JOLLIS
05 53 53 91 54
Dr PORTA
Upon appointment
05 53 56 86 87
Dr RACHIDI
05 53 56 86 87
OSTEOPATH
Sophier BERNARD-CHABRIER
Upon appointment - every other week Monday 4:00pm - 7:00pm
Friday 2:00pm - 5:00pm
05 53 56 86 26
PEDICURE / PODIATRIST
Pauline LONGA
Upon appointment - from Monday to Thursday 9:00AM - 6:30PM
Friday 9:00AM - 12:30AM
05 53 56 01 65
PRIVATE NURSES
Michaella PINEL
Upon appointment
05 53 56 90 54
Aline COURTIN
Upon appointment
05 53 56 90 54
PSYCHOLOGIST
Sophie CHRETIEN
Upon appointement, Tuesdays and Thursdays
06 41 54 36 50
PSYCHOMOTRICIAN
Ariane CANDILIS
Upon appointment - Mondays
06 98 49 04 04
SOPHROLOGIST
Coralie SOLTYSIAK
Upon appointment - Wednesdays
soltysiak.coralie@gmail.com
06 27 49 15 66
HEALTH CONCERNES - PREVENTION
M. GIOURGUES
Upon appointement - 1st Monday and 4th Tuesdays of the month
OCCUPATIONAL HEALTH
Ms HOUSSEMAINE
Upon appointment - 1st Tuesday of the month
PHYSIOTHERAPIST
Ms LAFOURCADE
Free-lances
Nurse

– Mme SENDRE
05.53.60.78.48

Dentist

– Dr ATESCI

Upon appointment

05.53.60.90.83